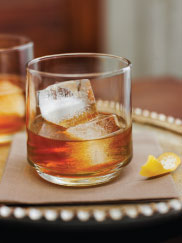 Photo by Stuart Mullenberg
Cocktail, New York Style

In our March/April 2012 issue, cocktail historian David Wondrich traces the emergence of the cocktail in New York City. "There's something about the quick, cold snap of a well-made cocktail that fits Gotham's pace," he says. This recipe, he says, "is for the cocktail as it was when it first captured the hearts and livers of New York drinkers, made with either genever—Dutch gin—or French brandy, and served on ice. If you want to replace the sugar and water with a teaspoon or so of rich simple syrup (two parts sugar and one part water), stir the drink with ice and strain it into a chilled coupe, well, that's just what New Yorkers did to it once the city started to really jump, back around 1850."
1 cube Demerara sugar
½ oz. water
3 dashes aromatic bitters (such as Fee Brothers Whiskey Barrel-Aged Bitters or The Bitter Truth Aromatic Bitters) or Angostura bitters 
2 oz. Bols genever or Cognac
Ice cubes
Tools: muddler, barspoon
Glass: Old Fashioned or small tumbler

In an Old Fashioned glass, muddle a cube of Demerara sugar (or a teaspoon of loose Demerara) with ½ an ounce of water and 3 dashes of bitters. Add 1 or 2 large ice cubes and 2 ounces of genever or Cognac. Stir and serve.

Optional: Add 1 or 2 dashes (the kind of dashes you'd get from a bitters bottle) of absinthe into the glass and twist a thinly cut lemon peel over the top, not forgetting to rub the peel around the rim.
TAGS:
RELATED CONTENT
Read about the history of the New York cocktail.