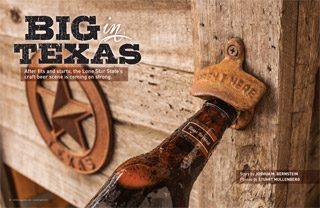 Back in the early 1990s, homebrewer Brock Wagner took a long, hard look around Houston and realized that something was missing. "It was the largest city in the country without a craft brewery," Wagner says.
With America's microbrewery craze reaching a fever pitch, opening a brewery in Houston seemed like a slam-dunk. Along with fellow Rice University graduate Kevin Bartol, Wagner cobbled together brew kettles and used dairy tanks and, in 1994, opened Saint Arnold, so-named after the patron saint of brewing.
Wagner needed every drop of divine assistance. "In the early days, we underestimated how difficult it was to succeed," he recalls. Outside of a handful of homebrewers and several craft-focused bars, notably the Ginger Man, getting people to drink his amber ale and filtered hefeweizen was like telling them to ditch football for soccer. "Texas has a culture of drinking light beer from longnecks," adds Wagner. "It's very difficult to get people to switch to craft beer."
Instead of indiscriminately throwing limited resources at longneck drinkers, Saint Arnold targeted lifestyles. Did Houstonians attend cultural events, drink wine and prefer reading to watching TV? If they did, those were keys the Saint Arnold team came to recognize through observation that residents might be receptive to craft beer. It was a tough row to hoe until around 2001, when the brewery's tour attendees started skewing younger, the start of a gradual, permanent shift in drinking habits that saw consumers take to craft beer at an earlier age. "It's not that young people never drink light beer, but they view beer as a spectrum of different flavors," says Wagner who, by 2005, noticed 21-year-olds were celebrating their birthdays at the brewery. "I've never met a former craft beer drinker, but I've met a lot of former light-beer drinkers," says Wagner, who moved Saint Arnold to a larger facility in 2010—an overnight success after more than a decade in business.
These days, nary a month passes without a Texas brewery expanding or starting up. Long-running operations, such as Live Oak and Spoetzl, are increasing capacity, while Austin is exploding with breweries and brewpubs, such as Hops & Grain, Austin Beerworks, South Austin Brewing and community-supported Black Star Co-op. Dallas is also booming with Deep Ellum and Peticolas Brewing, which won gold at 2012's Great American Beer Festival for its Royal Scandal pale ale, while Houston recently welcomed Buffalo Bayou and Karbach. And with their wild and barrel-aged ales and style-defying mash-ups—care for a smoky, subtly sour Chipotle Lichtenhainer?—experimental breweries, such as Jester King and Freetail, are making drinkers look at the Lone Star State in a brand-new light.
A Fresh Shine
With more than 25 million residents and temperatures that often top triple digits, Texas has never had a shortage of beer drinkers. "When it's as hot as it is here, you want to have a cold beer," says Jimmy Mauric, brewmaster at Shiner's Spoetzl Brewery. Spoetzl's origins stretch to the 19th century, when German and Czech immigrants flocked to the Hill Country of central Texas and settled in small towns like Shiner. They brought the know-how to smoke meat and stuff sausages—the framework for the state's BBQ culture—as well as a love of lagers. To slake that thirst, a group of amateur brewers formed the Shiner Brewing Association in 1909, tapping a German immigrant named Kosmos Spoetzl as their first brewmaster.
Though the brewery survived Prohibition, by the 1970s its flavorful lagers were in danger of drifting away like tumbleweeds. Statewide, tastes were turning to light lagers such as Lone Star, Pearl and big boys Bud and Miller, both of which had Texas breweries. "When I was growing up in Shiner, the beer seemed like an afterthought," says Mauric, who began working at Spoetzl in 1978. "I always thought that the brewery would be here forever." But by 1989, he wasn't so sure.
Salvation lay in an unlikely savior. That year, a Corona importer named Carlos Alvarez bought Spoetzl and invested in the brewery's infrastructure. Alvarez turned the rich, smooth Shiner Bock into Spoetzl's flagship and began increasing distribution around Texas and, as years passed, just about anywhere in the United States. Much as Yuengling has become Pennsylvania's official beer, Shiner Bock is the proud emissary of Texas. "Shiner Bock put us on the map," says Mauric, who shepherds a growing family of Shiner beers that includes the Hefeweizen, Bohemian Black Lager and Wild Hare Pale Ale. "Even at 500,000 barrels a year, we're still a small brewery," he says. Along with other breweries in Texas and the United States, "we're just taking a piece of this large share that bigger brands have."
Boom and Bust
The 1990s were a checkered decade for Texas brewing. While Spoetzl soared, countless other breweries and brewpubs fell flat, many of which opened soon after the state legalized brewpubs in 1993.
One failed brewery that still looms large in Texas lore is Celis. In 1992, witbier savior Pierre Celis settled in Austin and opened his namesake brewery specializing in the cloudy, aromatic beer he honed with Hoegaarden. That brewery, combined with brewpubs like Lovejoys and Waterloo (the state's first), had Austin poised to be a brewing powerhouse, perhaps the South's answer to Portland, Oregon. By the millennium's flip, the bubble had burst. A rent squabble forced out Waterloo, and to repay investors Celis sold brewery shares to Miller, which shuttered it and sold the brand.
The 1990s did have several brewing successes, notably Real Ale Brewing. It started on a shoestring in 1996 in the Texas Hill Country town of Blanco, outside Austin. "The brewery was basically a large-scale homebrew setup crammed into every nook and cranny in a basement," says brewmaster Erik Ogershok. To maximize space, offices were relocated to an Airstream trailer and shipping containers were repurposed for grain and bottle storage. Despite cramped quarters, Real Ale's brewers were committed to superior beer, a simple rule that many Texas breweries broke.
"If we had a questionable batch, we didn't put it out," says Ogershok, who handles a line of modern spins on classic styles like the crisp, aromatic Rio Blanco Pale Ale, dry and roasty Brewhouse Brown Ale and smooth, zesty Firemans No. 4 Blonde Ale. Real Ale found a loyal, steadily growing following that, a decade later, allowed it to expand. "If you're doing something from Texas and it's good, Texans are going to rally around it," he says.
The success of Real Ale, as well as Saint Arnold, is also due to the state's strong network of beer bars. Since its first Houston location opened in 1985, Ginger Man has become a family of craft-focused taverns that stretches statewide (and to the East Coast as well). The woodsy Draught House has, for decades, served as a focal point in Austin, dispensing 50-plus beers, including some brewed on site. Furthermore, Fort Worth–born Flying Saucer Draught Emporium spreads the good-beer gospel at its outlets across Texas and the South.
"When those guys say, 'Live Oak is making great beer and we have it on tap,' it makes all the difference," says Chip McElroy, president of Austin's Live Oak Brewing, which he founded with fellow homebrewer Brian Peters in 1997. Word of mouth was especially important given Live Oak's focus on Czech-style pilsners and German hefeweizens. "The people that were drinking mainstream beer would try it and say, 'What was that?'" recalls McElroy. "But eventually they got it. That's one of the great things about being in Austin. It's easy to do something different and new as long as it's good. If it's inherently good, people understand and embrace it."
Locals' continuing embrace of Live Oak has allowed it to purchase property with an eye to build a new brewery, with plans to package its beer and increase capacity. (Cofounder Peters left in 2001 to work at brewpubs such as Uncle Billy's; longtime head brewer Steve Anderson resigned in 2012 to take over west Texas' Big Bend Brewing.) "It's all we can do just to keep up," McElroy says. "All the breweries are making beer as fast as they can."
New Wave of Innovation
As Texas' brew scene continues to expand, brewers have begun using wild yeasts, oak barrels and indigenous ingredients to create quirky, proudly Texan beers that are leagues away from a Lone Star.
Austin's quirky Whip In—a South Asian gastropub, bottle shop, music venue and beer garden—recently opened the Namaste Brewing nanobrewery, which makes the curious Cucumber Rye Saison and Chai Cacao Porter. In addition to whiskeys (see page 54), San Antonio's Ranger Creek crafts the rauchbier-like Mesquite Smoked Porter and Strawberry Milk Stout. Real Ale has been rolling out experimental Mysterium Verum ales, such as Scots Gone Wild, an oak-aged Scotch ale spiked with souring bacteria and wild yeast, and Imperium, a barrel-aged IPA infected with locally captured wild yeast.
"In a state of 25 million people, there are bound to be enough folks interested in beers that are outside the norm," says Ron Extract, a co-owner and brewer at Jester King, which also brews with native Texas yeast—and chipotles, birchwood-smoked malt, kombucha and whatever else catches the brewing team's fancy. Since brothers Jeff and Michael Stuffings teamed up with the former beer importer in 2010 to launch Jester King, located about 20 miles southwest of Austin, the brewery has broken nearly every unwritten law in Texas brewing. To succeed, "people told us that we'd need a blonde ale, a sweeter red ale, an IPA and a bock," Extract recalls. Instead, their debut brew was a dark and roasty, low-alcohol English ale named Commercial Suicide. "We brewed a beer that we thought had no audience," Extract says, laughing.
Soon, though, the brewery found takers for its farmhouse-style Black Metal imperial stout; hoppy Le Petit Prince, which is just 2.9 percent ABV; and barrel-aged sour saison Das Wunderkind. "Right away, we saw our barrel-aged sour beers embraced," says Extract of the lineup that also includes the funky Boxer's Revenge, as well as the kombucha-blended Buddha's Brew.
Busting boundaries is also the mission of San Antonio's Freetail Brewing, where head brewer Jason Davis has a unique perspective on Texas brewing. "I was there on the ground floor, washing dishes at [Austin's now-shuttered] Waterloo Brewing," says Davis,  who became assistant brewer there before moving on to Celis. Fittingly, at Freetail, he makes witbiers such as the subtly spicy Rye Wit, Prickly Pear Wit and Spirulina Wit that's tinted with the vitamin-rich, blue-green algae. "People either love it or hate it," says Davis, who regularly releases dozens of unusual beers, some in batches as small as five gallons.
Pop by the brewpub and you might find the smoky, Belgian-style Rubio Fumando, Chilly Invierno black saison punched up with chile peppers or barrel-aged sours like Peche'cus, a double witbier that's aged with Texas peaches. The brewery's breakout star, though, is La Muerta. The massive imperial stout is brewed and bottled annually for Día de los Muertos, accompanied by a release party that has attracted fans from as far away as Chicago.
It's rare for a Texas brewery to attract national interest. Save for Southern Star, Spoetzl, a limited amount of Jester King and Saint Arnold, other Texas beers stay close to home. "Our strategy is never to leave the state," says Real Ale's Ogershok. This seemingly contradicts common sense—until you look at a map. Texas is enormous, and there's not a ton of outside brewing competition. Brands entering Texas must pay exorbitant registration fees and, until recently, follow specific labeling. Any beer less than 4 percent alcohol by weight (about 5.1 percent ABV) had to be labeled beer; topping that alcohol threshold branded it as an ale. For cash-strapped craft breweries, printing and registering new labels and paying high fees made no sense.
Thanks to the efforts of the Texas Craft Brewers Guild, grassroots organization Open the Taps and breweries like Jester King, the labeling law was overturned in 2011, but many business-thwarting laws remain. Chiefly, breweries can't sell directly to consumers, while brewpubs are banned from wholesale distribution. "We have a full-fledged bottling line, but we can only sell in the brewpub," bemoans Freetail's Davis. He and other brewers have high hopes for the current legislative session. "If we get this done, we're going to rock and roll," Davis says.
Actually, the whole state seems ready to rock. There's more, and better beer, than at any time in Texas' history, with plenty in the pipeline. Both Fort Worth's Rahr & Sons and Spoetzl Brewery recently increased capacity, and Austin Beerworks is rapidly adding fermentation tanks to meet demand for its canned brews. Real Ale now has more than 100 barrels in its cooperage, as well as limited-edition Brewers' Cut releases like a dry-hopped porter and imperial red ale. And Saint Arnold has complemented its cultish Divine Reserve series with the rotating Icon beers, such as a Belgian-style pale ale, and the Bishop's Barrel oak-aged series. No matter how much Saint Arnold makes, it's never enough.
"We thought we had a good 15 years in our new facility," founder Wagner says. "Three years in, and we're looking at what we can do to expand our capacity. There's no slowing down craft beer in Texas."