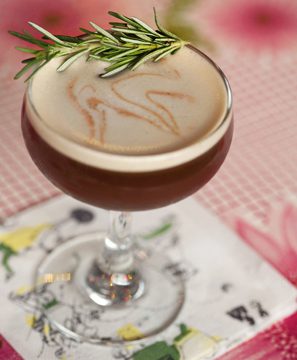 At his Los Angeles mezcal bar, Las Perlas, Raul Ystorza honors the Southern Mexico-born spirit with concoctions like this warm-weather beauty. He balances the drink's spice and herb elements with a light, fruity blanco mezcal.
One medium strawberry
4 basil leaves
Pinch of fresh rosemary needles
2 barspoons balsamic vinegar syrup
1/2 oz. five-spice honey syrup
2 dashes Fee Bros. Whiskey Barrel-Aged bitters
3/4 oz. Meyer lemon juice
1/4 oz. fresh egg white (pasteurized if you like)
2 oz. blanco mezcal
Tools: muddler, shaker strainer, fine strainer
Glass: coupe
Garnish: rosemary sprig
In a mixing glass/tin, muddle strawberry, basil, rosemary, balsamic syrup, honey syrup and bitters. Add lemon juice, egg white, mezcal and ice cubes. Shake vigorously and double-strain into a chilled coupe, then garnish.
Balsamic Vinegar Syrup: In a medium pot, combine 1 1/2 cups of sugar and 1/2 cups of water. Heat on medium-high, stirring until the sugar is dissolved. Continue to cook until the water evaporates, leaving a caramelized syrup the color of dark amber. At the same time, in a separate saucepan, simmer 1 1/2 cups of balsamic vinegar. When the syrup is caramelized is ready, add the balsamic vinegar and stir over medium heat for 5 minutes. When the syrup is slightly thickened, remove from heat. Transfer the syrup to a small bowl and place it in an ice bath. Once cooled, transfer to a small bottle and refrigerate. Keeps up to 6 months.
Five-Spice Honey Syrup: Preheat a medium pot on medium-high. Add a palmful of cardamom, star anise, fennel, clove and cinnamon stick bits. Toast very lightly. As soon as you see a light wisp of smoke emitting from the pot and spices, remove the spices from heat. Add 2 cups of clover honey and 1/2 cup of water to the pot, return to heat and bring to a boil. Reduce the heat and let simmer for 30 minutes. Strain the syrup to remove spices. Chill to room temperature in an ice bath or in the refrigerator.
Raul Ystorza, Las Perlas, Los Angeles