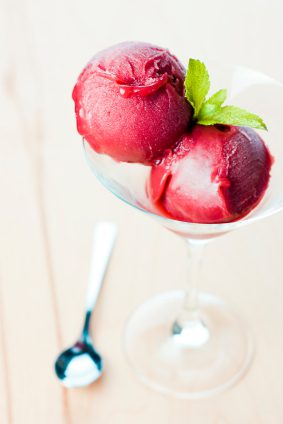 Get a double dose of fresh strawberry flavor in this bright and juicy fruit wine-infused summery sorbet.
2 pints strawberries, hulled and chopped
1 cup strawberry wine
½ cup granulated sugar
¼ cup honey
1 Tbsp. fresh lime juice
1 tsp. lime zest (optional)
Pinch of salt
In a large pot, combine all ingredients and bring just to a boil. Reduce heat to medium low and let simmer just until sugar is dissolved. Remove from heat and let cool to room temperature. After it comes to room temperature you can optionally purée the mix until smooth, but we like the texture of the strawberries left in chunks. Pour into an ice cream maker and freeze according to manufacturer's instructions. It will look soft after churning, but will firm up overnight in the freezer. Serves 4.