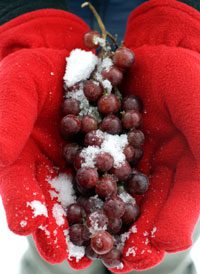 In "Sweet and Lowdown" from our November/December issue, writer Amy Zavatto delves into the frosty world of New York ice wines. But New York isn't the only wine region to take a dip into the ice-cold climes of frozen grapes. From Germany to Austria to Canada, here are six bottles from around the world worth trying.
Inniskillin Vidal Sparkling Ice Wine 2010
A lusciously sweet bottle of bubbles is among life's great indulgences, and this brunch-ready offering from Canada's Inniskillin is plump with fresh citrus, peach blossoms and a touch of minerality.
$65/375 ml., winechateau.com
Dr. Loosen Riesling Eiswein 2007
Riesling lovers have long adored Ernst Loosen for his consistently delicious and reliably budget-friendly wines, and this ice wine doesn't disappoint with concentrated notes of ripe stone fruit, candied pineapple and vibrant acidity. Crafted from two vineyard parcels Loosen waits to harvest each year in hopes the fruit will freeze, this 2007 vintage is the first we've seen from him since 2004.
$37/375 ml., laurentiwines.com
Christoffel Urziger Würzgarten Riesling Eiswein 2004
Most of the wines from this tiny estate in Germany's Mosel region are sold even before they hit the U.S. market, but thankfully, the Astor Center nabbed a few bottles of their elegant ice wine. Crafted from 100% Riesling, this wine is hugely aromatic but with enough body and acidity to cellar and revisit in a few years.
$99/375 ml., astorwines.com
Nigl Grüner Veltliner Eiswein 2007
Considered among the top (if not the top) vintners in Austria, Martin Nigl engages with this approachable ice wine. Grüner Veltliner to its core, this bottling concentrates notes of stewed apricots and buttered toast with just a touch of the grape's trademark salt and spice on the finish.
$40/375 ml., gnarlyvines.com
Dönnhoff Oberhauser Bruke Riesling Eiswein 2003
This German wine estate has been in the Dönnhoff family since 1750 and in the near three centuries since has come to include some of the most prized vineyards holdings in the Nahe region. This ice wine is deeply concentrated and animated with notes of ripe berry jam, plums and vanilla.
$169/375 ml., calvertwoodley.com
Louis Guntrum Oppenheimer Kruez Silvaner Eiswein 1989
Want to taste an aged ice wine but don't have the patience to let one rest in your cellar for the unforeseeable future? Pop the cork on this pre-cellared bottle made from the delicate Silvaner grape for finely etched notes of honeyed pears and dusty apple skin.
$60/375 ml., klwines.com

RELATED CONTENT
Learn about the world of New York ice wine.
TAGS: {cptags}