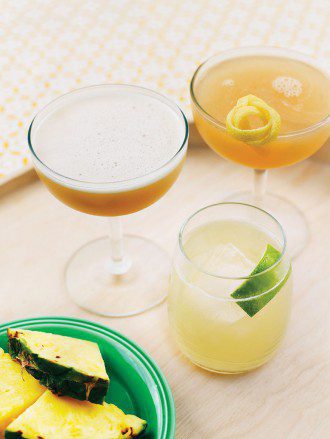 Christopher Columbus may have had little fear of sailing into the unknown, but upon his first encounter with the pineapple—in Guadeloupe, in 1493—he could be forgiven any apprehensions he may have experienced.A bristly, bomb-shaped bromeliad with a fearsome cluster of blade-shaped leaves, the pineapple was long familiar to early inhabitants of Central America and the Caribbean. But it wasn't until after Columbus' second voyage—and after cultivation of the fruit commenced in the 18th century—that Northern palates learned what had long been obvious to the explorer's hosts: For all its prickly appearance, pineapple has a flavor and aroma so luscious and beguiling as to border on lascivious.
Today, pineapple is a familiar food, and in the drinks world, it's a staple of any self-respecting tiki bar. But this taste of the tropics must have been an eye-opener for cocktail pioneers, who embraced the spunky fruit, using pineapple syrup, as well as the fruit and its juice, in drinks far removed from the Bahama Mama.While pineapple has a natural affinity for rum, bartenders during the cocktail's golden age embraced the fruit's natural versatility, playing its sunny brightness against the woody depths of whiskey in drinks such as the Prince of Wales (and, later, the Algonquin); matching the floral profundity of Cognac with pineapple syrup in the Brandy Fix; pairing fresh pineapple with gin and sparkling wine in lusciously fizzy Pineapple Juleps; and bolstering the aromatic earthiness of Peruvian pisco with pineapple gomme syrup in the defining drink of Gold Rush–era San Francisco, the Pisco Punch.
Treated badly in a can or a juice concentrate, the flavor of pineapple can be limp and insipid, but today's quality-minded bartenders are rediscovering how vibrant this fruit's character can be. The French herbal liqueur Chartreuse plays incredibly well with pineapple's tropical tones, as exemplified in the Cognac-based Iroquois No. 2 from Lantern's Keep in New York and the tequila-based Mexican Fix from Reflections at Hotel Georgia in Vancouver, British Columbia. "The herbal complexity of Chartreuse marries so well with the deep, fruity sweetness as well as the slight tartness of the pineapple—it's almost as if they're made for each other," says Robyn Gray, head bartender at Reflections.
Today's bartenders also find that pineapple has a distinct affinity for the savory flavor of tequila and the smokiness of mezcal. "Pineapple is such a great match for tequila," adds Gray. "It accentuates the base spirit's flavor profile. Using a reposado tequila is imperative in [the Mexican Fix] because the oaky character adds another layer of depth."
It's unknown how Columbus reacted to his first experience with the thorny-looking pineapple, but as several generations of bartenders have taught us, there's nothing to fear here.