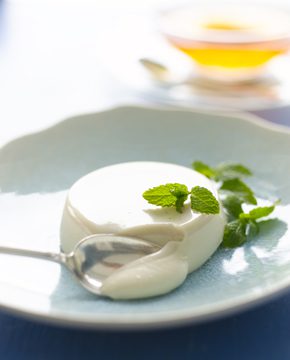 A cooling breeze of fresh mint cuts through the richness of this creamy dessert, and a generous splash of bourbon gives it a decidedly grown-up kick. Boiling the bourbon burns off the harshness of the alcohol, but leaves the flavors in tact.
1/2 cup bourbon or Tennessee whiskey
3/4 cup whole milk
2 cups heavy cream
1/3 cup granulated sugar
1/2 cup fresh mint leaves, plus more for garnish
1/2 vanilla bean, split lengthwise or 1 tsp. vanilla extract
1 1/2 tsp. unflavored gelatin powder (such as Knox gelatin)
Vegetable oil
Place the bourbon in a small saucepan and set over medium heat. Boil for 30 seconds or until reduced by half. Set aside.
Combine the milk, cream, sugar and mint leaves in a medium saucepan. Scrape the seeds from the vanilla bean and add them to the pot along with the pod (if using vanilla extract, add it later). Set over low heat and slowly heat the mixture, stirring occasionally, until it just comes to a boil (about 30 minutes).
Meanwhile, place 3 tablespoons water in a small bowl and sprinkle the gelatin over it; set it aside for 10 minutes to soften and absorb the water. Pour a little oil onto a paper towel and use it to lightly but completely coat 6 small (6-ounce) ramekins.
When the milk begins to boil, remove from the heat and add the gelatin, stirring until dissolved. Add the bourbon (and vanilla extract, if using), then pour the mixture through a fine-mesh sieve into a pitcher or 4-cup liquid measuring cup with a spout. Divide the mixture among the oiled ramekins. Allow to cool for a few minutes, then cover with plastic wrap and refrigerate until set, at least 4 hours or up to 2 days.
You can serve the panna cotta in their ramekins or unmold them. To do this, slip a thin knife around the ramekin to loosen the custard and then dip the bottom into a bowl of hot water for a few seconds. Pat the ramekin dry, then invert each ramekin onto a plate with a quick tap; serve immediately, garnished with mint.
Serves 6.
Adapted from The Lee Bros. Simple Fresh Southern by Matt Lee and Ted Lee.  Copyright © 2009. Photos © 2009 by Ben Fink. Published by Clarkson Potter/Publishers, a division of Random House, Inc.