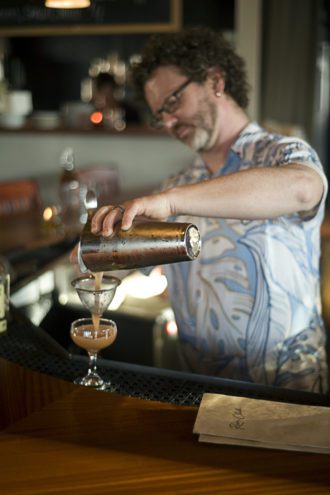 Portland is one of the country's top destinations for eating and drinking, which can make it tricky to navigate when you're looking for must-visit spots—so many choices! To help distill things down a bit, we asked one of the city's best bartenders, Michael Shea of Southeast Portland's Rum Club, where he likes to eat and drink on his (few and far between) days off. Here are his top picks.
Breakfast
I tend to not go out a lot since much of my time is spent in the bar, so breakfast out is a rare occasion for me and my wife. When we do go out, it's usually Asian. Pho Oregon has our favorite Pho that is worth the drive up 82nd. We go to Wong's King for Dim Sum. For one of our rare brunches out, we go to Olympic Provisions on the eastside for the best Eggs Benedict that I've ever had. Tasty n Alder [in downtown] has great food and an equally great drinks menu. Most of the time I'm content to buy fancy ham and cheese at the Woodsman Market [on SE Division] to take home to enjoy with some bubbles.
Lunch
Lunch is usually takeout food or meals near Rum Club. I can almost live off Nong's Khao Man Gai chicken rice. I've just started going to the newly opened Oso Market as a way for me to get away from the bar for a nice glass of wine and some great simple food right in the neighborhood.
Aperitif Hour
Often on our day off when we're looking for food in the dead time of 3-5 p.m., we end up at Little Bird. Tom has a great cocktail program, there's good food and good wine, and they're open all day.
Dinner
For great cocktails, I go to Teardrop Lounge. They have the best bar program in the city. As far as dinner goes, two of my best meals in the last year were at Ox and the omakase at Boxer Sushi.