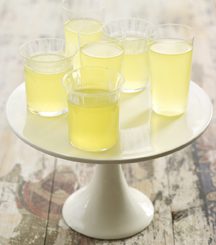 If you're a fan of the anise-bedecked Herbsaint liqueur, you'll love these light and vibrant grownup treats, one of many unique recipes from DamGoodSweet by David Guas and Raquel Pelzel.
2 (¼ oz.) packages plus 1 tsp. powdered unflavored gelatin (2 Tbsp. total)
½ cup sugar
1 cup club soda
½ cup fresh lemon juice (from 4–6 lemons)
3 Tbsp. Herbsaint
Pour ½ cup of cold water into a small bowl, sprinkle the gelatin on top, and
set aside.
Bring the sugar and an additional ½ cup of water to a boil in a small saucepan and immediately turn off the heat. Stir the club soda, lemon juice, and Herbsaint together in a medium bowl. Stir the gelatin mixture into the warm sugar water, whisk until dissolved, and then pour into the bowl with the club soda, stirring to combine.
Pour the mixture into an 8-inch-square baking dish or small shot glasses, cover with plastic wrap, and refrigerate until set, about 3 hours or overnight. Set a glass with hot water on your work surface. Dip a paring knife into the hot water and use it to cut the pan of jelled Herbsaint into 1-inch squares. Place a burner on low heat and hold the baking dish over the burner for a split second to release the cubes from the pan. Invert the pan onto a cutting board or platter; the cubes should pop right out (if serving the Herbsaint shots in shot glasses, serve as is with a small spoon.) Store the poppers in the refrigerator in an airtight plastic container or in the baking dish covered with plastic wrap for up to 1 week. Serves 8.