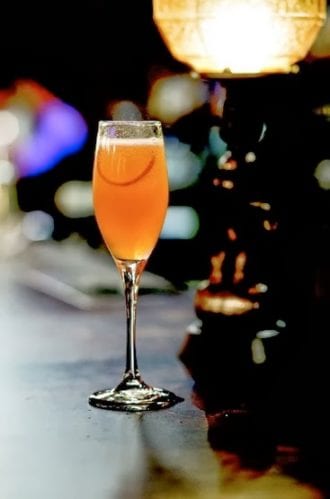 Aged rum and Aperol imbue some spirit into this peppercorn-infused sparkler.
1 oz. aged rum (Caudle uses Havana 3-year)
2/3 oz. Aperol
2/3 oz. fresh grapefruit juice
1/3 oz. vanilla-peppercorn syrup
Dash of fresh lemon juice
Sparkling wine
Tools: shaker, fine strainer
Glass: flute
Garnish: grapefruit twist
Combine all ingredients, except sparkling wine, and shake with ice. Double strain into a chilled glass, top with sparkling wine and garnish.
Vanilla-peppercorn syrup: Combine 2 cups granulated sugar, 2 cups water, 1 Tbsp. whole black peppercorns, 1 Tbsp. cracked black peppercorns and 2 vanilla beans, split lengthwise, in a small saucepan over medium-high heat and stir until sugar dissolves. Bring to a boil, then reduce heat to medium-low and simmer for 20 minutes. Remove from heat and cool to room temperature. Pour all ingredients into a jar once cooled, seal, and let sit overnight. Double strain mixture the next day, and transfer to an airtight container. Keep refrigerated for up to 1 month.
Nate Caudle, Little Jumbo, Victoria, British Columbia