---
HOME | ON TAP | COCKTAILS & SPIRITS

---

For some drinks enthusiasts, home is where the bar is.


 

In our Jan/Feb 2012 issue, we feature inspiring home bars across the country, from a fully replicated English-style pub in a Tennessee basement to an Airstream tiki bar in a Brooklyn living room to a classic absinthe lounge in a New Orleans home's library. Here are a few more home bars  we uncovered—these three were built by people who happen to work in the cocktail business, but most of the bars featured in the print magazine were built by home enthusiasts. Regardless, they alll provide a fun look at what's possible. And for more on setting up a home bar, check out our Home Bar Guide in the May/June 2009 issue.
THE LABORATORY
Los Angeles, California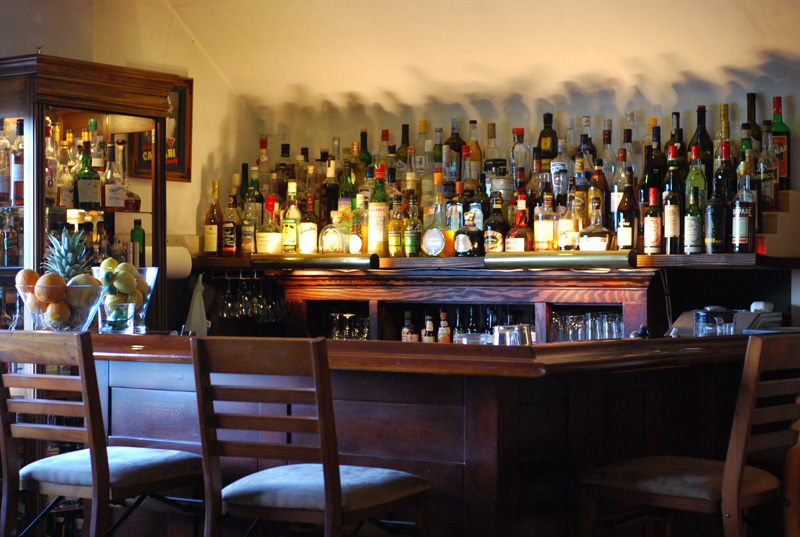 Good students always pay attention, and when cocktail consultant Andrew Willett's home bar is the classroom, staying on task is as easy as pulling up a stool. It's from a converted third-floor library in Willett's 1906 Los Angeles home where participants in his popular Elemental Mixology courses get a taste of this tinkering imbiber's home bar. "I stock about 200 bottles in the displays," Willett says, "and about another hundred out of view."

Among those bottles, you'll spy a number of which aren't even commercially available in the U.S., including German waidlagerist (a spirit of chamomile, nutmeg and other botanicals) and wildbeerengeist (a spirit made from wild berries grown in Bavarian forests). And while Willett has been amassing his massive bottle collection since 2005, the toughest work came with piecing together the actual bar. "I bought the bar in components and assembled it myself," he says.

This meant maneuvering each piece to the third floor of an old Craftsman house. "The final flight of stairs is narrow and has an unforgiving turn," he says, "and I dread the day we move!" But the effort has paid off, especially for those lucky enough to snag a stool at the 200-square-foot bar. "I love being able to share my passion with others," he says. "It feels good to be doing something real in the small advancement of the understanding and appreciation of mixed drinks."
THE PAD
Alameda, California (Photo by Paul McMillan)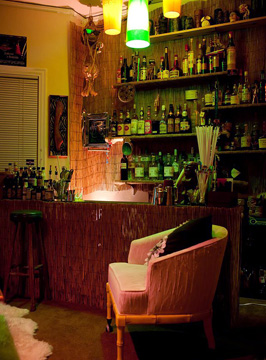 Most professionals aim to keep their work life separate from their home life. Not Suzanne Long. As bar manager for Alameda, California's urban tiki oasis Forbidden Island, Long spends her bar shifts crafting cocktails with her signature tropical bent, and when it's time to clock out, she heads home to "The Pad"—a 500-square-foot studio apartment she converted into a bedazzling home bar. "After working in the drinks industry for almost 20 years, I'd developed a massive bottle collection," Long says, "and I'm always experimenting with new recipes at home, so turning the apartment into a bar seemed like the natural thing to do."

Complete with a bamboo-shrouded 9 1/2-foot-long bar, ceiling-scraping shelves housing the massive collection of bottles and bitters, and faux Polynesian art aplenty, The Pad could make any contemporary cocktail bar blush. And the parties? Equally enviable.

Open anywhere from one to four nights a week, The Pad hosts anywhere from a dozen or so friends and industry acquaintances on a slow night to upwards of 60 during one of Long's two rollicking annual parties. "Each March, we [Long and her boyfriend who lives in the same building] host the Black Tie Champagne Gala where everyone arrives dressed in their best and ready for bubbles," she says. So many bottles of bubbles, in fact, that last year the bathtub (which was being used as a giant Champagne cooler) overflowed. But an overflowing bathtub of bubbles had nothing on the annual picnic party thrown every summer. "We temporarily moved out all the furniture and brought sod in," Long says with all seriousness. "So when people walked into the apartment they stepped right onto a grassy lawn."

And what does Long get back for being such a hospitable host? "Sometimes friends will bring me back bottles if they travel somewhere exciting," she says. "But I do it because I just love being able to extend my hobby and creativity to others. I wouldn't change a thing."
P, B & Js BAR
Shorewood, IL

He designs kitchens for a living; she's the director of mixology for one of the largest wine and liquor distributors in the country. So it was only a matter of time before Bridget Albert and her husband Jamie decided to outfit their suburban Illinois house with a serious home bar. The duo started construction in October and hopes to have their basement bar finished and fully operational by early spring, including a 12-foot-long bar, custom bottle racks and lighting, and three draught lines.

Named after the first initial of each of the Alberts—'P' for daughter Paige, 'B' for Bridget, and 'J' for Jamie, "P, B & Js Bar" will be busy from day one. "I have 55 family members (just on my side) who all live in town," Bridget says. "My cousin Cindy and her husband Jim have an eight-seat Irish bar in their home just down the road. We spend a lot of time over there and are definitely excited to home bar hop!"

The Alberts expect the final price tag for their bar to be about $10,000, and they say they've learned a number of lessons through the process. Their top tips? Hire professionals, don't sweat the timeline, avoid themes and designs you might easily tire of, and be sure to have fun with the process—remember, this is a home bar built for enjoyment!

TAGS:
Looking to set up your own home bar? Check out our Ultimate Home Bar Guide in the May/June 2009 issue.