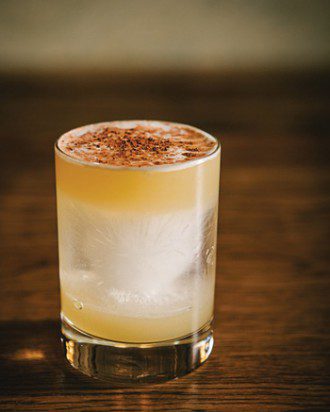 Our January/February 2013 issue launched the inaugural "Imbibe 75"—a list of people, places and flavors that we think will help shape the drinks landscape in 2013. In celebration, here are 20 cocktail recipes inspired by the people, places and flavors of our 2013 Imbibe 75.
20th Century
This cocktail is a timeless combo of gin, vermouth and a 2013 Imbibe 75 featured flavor, crème de cacao.
Angel's Share
Bourbon, amaro and crème de cassis—what's not to love about this ethereal aperitif?
Barrelhouse Flat Tom and Jerry
A warming classic cocktail that predates even eggnog, this bourbon- and blackstrap rum-infused variation from ace Chicago barman (and 2013 Imbibe 75 Person to Watch) Stephen Cole infuses a few culinary techniques for a batter that can't be beat.
Brave Companion
Two of our favorite flavors from the 2013 Imbibe 75—crème de cacao and vanilla—make for one seamless sipper.
Coffee Cocktail
While there's actually no coffee in this classic cocktail, brandy, Port and a whole egg offer up a welcome boost to the brunch table.
Curaçao Punch
First printed in Harry Johnson's 1882 New and Improved Bartender's Manual, this once-forgotten punch combines brandy and rum favorite flavors from the 2013 Imbibe 75, Curaçao.
El Burro Ardiente
Fiery mezcal and peppery ginger beer spice up this Port-infused spritzer.
El Chavo
Rich vanilla-cardamom syrup adds a fragrantly spiced edge to this tequila sipper.
La Yapa
Up-and-coming bar star Jamal Hassan (one of our 2013 Imbibe 75 People to Watch) developed this assertive mix of rye whiskey, Fernet Branca and lemon juice.
Lust for Life (pictured)
Our 2013 Imbibe 75 Cocktail Bar of the Year, Pouring Ribbons, proves its flavorful lust for life with this combination of mezcal, sherry and citrus.
Morning Glory
Don't be fooled by its name—you may want to wait at least until noon before mixing up a round of this Cognac- and Curaçao-fueled 19th-century classic.
Norwegian Sunset
Aperol lends a bittersweet balance to this caraway-flavored cocktail.
On the Boulevard
Complementary Aperol and crème de cassis playfully mingle in this bourbon-forward sipper.
Pedergrast
As easy to drink as it is to make, we're simply smitten with this bourbon cocktail from our 2013 Bartender of the Year, Ryan Maybee.
Prey of Thieves
Tawny Port adds a sultry layer of sweetness to the peaty Scotch sipper.
Ragtime
Combining Aperol, rye and amaro in equal measure, this cocktail is memorable in both flavor and formula.
Ruby Ruby
He named it twice, so it must be nice. Don't believe us? Take a sip and let this mix of Curaçao, port and fresh grapefruit do the talking.
Sea of Cortez
This crème de cassis stunner offers an updated take on the classic El Diablo cocktail.
Soother
This combo of Curaçao, rum and Cognac soothes to the core.
Veronica Rose
Rose-scented and ruby-hued, we're head over heels for this fizzy, Aperol-flavored cocktail from featured bar Polite Provisions.