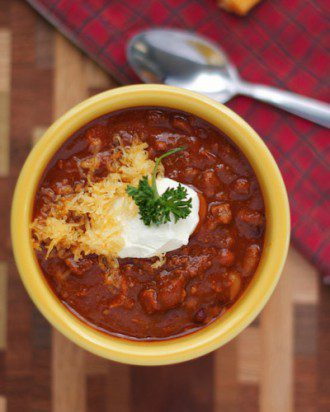 A classic comfort dish gets bolstered with two bottles of beer in this Guinness chili recipe.
½ lb. bacon, diced
1 ½ lb. ground round (ground beef, 90% lean)
2 large onions, chopped
5-10 garlic cloves, chopped
2 12-oz. bottles Guinness (or other dark beer)
1 16-oz. can pinto beans, juice included
1 16-oz. can kidney beans, juice included
1 16-oz. can great northern beans, juice included
1 16-oz. can diced tomatoes
6 Tbsp. chili powder
2 Tbsp. ground cumin
1 tsp. cayenne pepper
Salt and fresh ground pepper, to taste
In a large stock pot or Dutch oven, cook the diced bacon over medium-high heat until the cracklings are golden but not burnt. Remove with a slotted spoon and drain on paper towel-lined plate.
Sauté the ground round, chopped onions, and garlic cloves in the bacon grease until the onions are translucent and the meat is mostly browned. De-glaze the pan with one of the bottles of Guinness, scraping up the browned bits with a wooden spoon. Stir in the bacon, beans, diced tomatoes and the other bottle of Guinness (you may also substitute 1 ½ cups of water, if desired). Add the chili powder, cumin, and cayenne pepper.
Cover and simmer for 2-3 hours over low heat. Adjust seasoning before serving, adding salt and pepper to taste.
Garnish with shredded cheese, sour cream or other desired toppings. Serves 6-8.
Maggie Cubbler, loadedkitchen.com