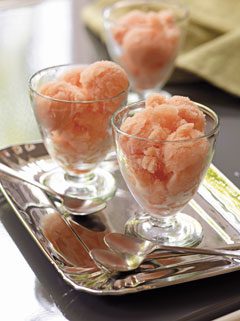 Campari and grapefruit is one of our favorite warm-weather pairings, and this summery sorbet from Food Network personality Ted Allen elevates the duo to a delicious dessert status.
¼ cup simple syrup (1:1)
3 cups fresh red grapefruit juice
¼ cup Campari
Combine all ingredients and freeze according to the instructions on your ice cream maker. Or, if you don't have an ice cream maker, make a granita instead of a sorbet. Just pour the mixture into a shallow baking dish, cover with plastic wrap and freeze. Every half hour, remove from the freezer and stir with a fork to break up the ice. The goal is for the mixture to freeze into large, loose crystals, not a block of ice. After 3-4 hours you should have crystals that will keep for up to 3 days in an airtight container.
Reprinted from In My Kitchen by Ted Allen with Barry Rice. Copyright © 2012. Photos copyright © 2012 by Ben Fink. Published by Clarkson Potter/Publishers, a division of Random House, Inc.