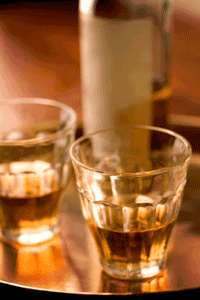 For our March/April 2011 issue, we blind-tasted six southern-distilled rye whiskeys, all priced under $50 a bottle. But if you're looking to splurge, there are even more ryes to choose from, so here are five additional labels that have higher price tags, but expansive flavor profiles to match. Some of these have limited availability and can be tough to find in stock, so if you see a bottle, you might want to get it while you can.
Check the print edition to see how Copper Fox, Old Overholt, ri(1), Rittenhouse 100, Russell's Reserve 6-Year and Sazerac 6-Year stacked up against one another. And keep an eye out for a couple of new entries to the rye whiskey market coming soon. One is the 90-proof Bulleit rye whiskey—look for sweet, tangy fruit aromas, a touch of spice on the palate and a creamy, grainy finish. The other is a rye from Jefferson's Reserve, which like Bulleit, is known for its bourbon.
Black Maple Hill, 23-Year Rye
95-proof, $140, fourseasonswine.com
Rich, buttery aromas lead into fruity, toasty flavors with a dry, peppery kick that keeps on giving. This is a beautifully nuanced rye that reveals new layers with every sip.
Hirsch 25-Year
92-proof, $200, caskstore.com
Those familiar with Hirsch whiskeys know each one is a rare treat, and this 25-year-old rye is no different with grainy aromas that are at once sweet and musky with dry and woodsy flavors of spicy grains, maple syrup and vanilla. This 25-year-old rye is just entering distribution, so check for it in the coming weeks at Caskstore.com.
Sazerac 18-Year
90-proof, $80, caskstore.com
Tangy upfront with aromas of dry sherry and black tea, this bottling from Sazerac offers rich flavors of molasses, grain and dried fruits. The extended barrel aging asserts itself on the finish with dry, woody tannins and just a hint of vanilla and sweet cream.
Thomas H. Handy
126.9-proof, $80, drinkupny.com
Bottled at barrel strength, this rough and tumble rye is not for the faint of heart. Cereal and sherry-like aromas meet an earthy creaminess on the palate and assertive spice and tannins on the finish. This edgy rye packs a punch, but it still manages to be smooth and balanced, making it a treat for sipping.
Van Winkle Family Reserve Rye
95.6-proof, $70, caskstore.com
The ever-so refined Van Winkle rye gracefully unfolds with layers of vanilla, cocoa, cherry and a generous helping of spice that pulls you in sip after sip.