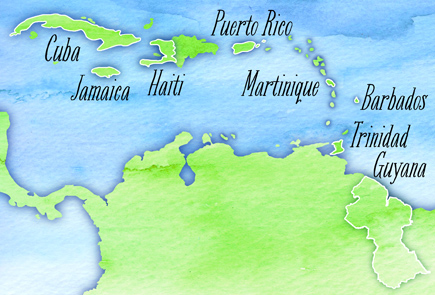 Made from sugar cane or molasses, aged for 30 years or not at all, in stainless steel or French oak, the rums of the Caribbean are as diverse as the sun-soaked islands they call home. Caribbean rums are beloved the world over, so we asked a few of the most rum-obsessed people in cocktails and spirits to name some of their favorites. Here's what they had to say.
Cuba
Cuba's history has long been intertwined with rum, with Christopher Columbus bringing the first sugar cane to the island in 1493. The first Cuban rums were rough spirits. It wasn't until the late 19th century that more refined, lighter rums emerged. Like many Caribbean rums, this somewhat lighter Cuban rum style was born out of the preferences of locals, and the rums of Havana Club are an excellent example of that style.
Expert Pick: Havana Club Selección de Maestros
This is one of Havana Club's most refined offerings, offering a sophisticated, balanced blend with just the right amount of heat. Tiki historian Jeff "Beachbum" Berry loves that "it goes down like a top-shelf Armagnac."
Jamaica
Jamaica's rum history is closely woven with the history of naval rum, or the rum rations given to the British Royal Navy, a practice that lasted until the late 1960s. Jamaican rums are distilled from sugarcane molasses and are often noted for their hogo-rich bouquet (meaning they still display some of the funk of fermented sugarcane juice in its raw state). Appleton is the big name in Jamaican rum, and it has been distilling rum there for over 260 years.
Expert Pick: Appleton Estate Reserve
Distilled in copper stills and aged in oak barrels, this bottle is probably familiar to most. Blair Reynolds of Hale Pele in Portland, Ore., calls it an example of "hogo-rich rums." This hogo is easily tamed into a pleasant tang with the addition of a bit of lime juice and sugar in the form of a Daiquiri or the even simpler Ti' Punch.
Haiti
A former French colony, Haitian rhums are, like those of Martinique, distilled from sugarcane, but are not protected by an AOC. Some are aged in French oak and some in stainless steel vats, and often, distillers begin with pot-stilled rum and then run it though a column still. Much of the sugarcane from which Haitian rhums are distilled is now imported due to heavy deforestation on the island. The island has quite a few small distilleries, but the most reliably good rhum—and reliably available in the U.S.—comes from Barbancourt.
Expert Pick:  Barbancourt Réserve du Domaine
Made from sugar cane rather than molasses, the rums of Haiti's Barbancourt distillery are reliably good. Jeff Berry prefers this bottling because of its unique character, a true star among aged rums. "Many aged rums hit the same vanilla notes, but this 15-year rum has a full-bodied, yet delicate character of its own," he says.
Expert Pick:  Barbancourt 5 Star
Aged for eight years, this pale gold rum is powerful and sweet with hints of pepper and cooked citrus on the finish. Martin Cate, owner of Smuggler's Cove in San Francisco, finds it to be truly "unique in style" as well as flavor. Good for sipping or for mixing.
Barbados
Bajan rums tend to have a higher sucrose content that results in a caramel richness. These flavors are often compounded in the aged rums of Barbados by time spent in American whiskey barrels. The island is home to some well-regarded rum (such as Cockspur and Foursquare), but, "We drink the best and export the rest" is a popular phrase among locals, and according to Ed Hamilton, that's no exaggeration. Fortunately for those of us who don't live on the island, even "the rest" is pretty darn good.
Expert Pick: Doorly's XO
Family-owned and made with care, this Bajan rum was mentioned by everyone we talked with. Jeff Berry describes it as "smooth, silky, but also brawny, with a heady aroma and a flavor that lives up to it." An excellent sipper.
Puerto Rico
The rums of Puerto Rico are, to some extent, distilled to meet the tastes of locals, but the rum style has also been heavily influenced by the American market, which is largely dominated by Puerto Rican rums like Bacardi. Molasses-based, Puerto Rican rums tend to be light-bodied, though in recent years there has been a shift toward more complex, flavorful, aged rums.
Expert Pick: Don Q Añejo
This rum is aged in American oak barrels for between three and five years. It's smooth and lightly sweet with notes of vanilla and molasses, and it has a nice dry finish. Martin Cate says it's perfect for mixing in delicate cocktails.
Martinique
The only island in the Caribbean to hold an AOC from the French government, the sugarcane-based rhums of Martinique are artful and refined. Rum expert and importer Ed Hamilton is passionate about these rhums in particular, as he thinks they exemplify true artisanship in rum production. In Martinique, sugarcane is harvested near the distilleries, and almost immediately the fermentation and distilling process begins. "Rum is so much about locality," he says. "It is the most diverse of distilled spirits. Authenticity and transparency are the marks of a great distiller."
Expert Pick: Rhum Clément Cuvée Homère
Imbibe editor Paul Clarke calls this one of the best rhums of Martinique, and Jeff Berry agrees, listing it as a standout on an island of great rums. "It rivals the finest Cognac but is still very much a rum, with a luxuriantly rich, toasty, browned-butter essence."