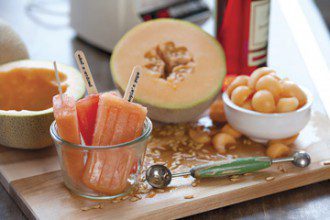 The creative folks over at People's Pops in Brooklyn, New York, know pretty much everything there is to know about sweet, icy goodness, and their book, People's Pops: 55 Recipes for Ice Pops, Shave Ice, and Boozy Pops from Brooklyn's Coolest Pop Shop, by Nathalie Jordi, David Carrell and Joel Horowitz (Ten Speed Press, 2012), is bursting with cool ideas for summery treats, including these super-refreshing popsicles, which combine bitter Campari with fresh, sweet cantaloupe.
1 cantaloupe, about 2 lbs., peeled and seeded
¾ cup (6 fl. oz.) simple syrup (1:1)
¼ cup (2 fl. oz.) Campari
Cut the cantaloupe into large chunks and purée in 
a food processor. You should have about 2 ¼ cups 
(18 fl. oz.) of purée.
Transfer the puréed cantaloupe to a bowl or measuring pitcher with a pouring spout. Add the simple syrup until the cantaloupe tastes quite sweet. Now dribble in the Campari until you can detect its flavor. Campari is less alcoholic than most spirits, so this mixture can handle more of it, but it has such a strong presence that you want to be careful not to overdo it
Pour the mixture into ice pop molds, leaving a little bit of room at the top for the mixture to expand. Insert sticks and freeze until solid, 4 to 5 hours. Unmold and transfer to plastic bags for storage or serve at once.
Makes 10 pops.
Reprinted with permission from People's Pops: 55 Recipes for Ice Pops, Shave Ice, and Boozy Pops from Brooklyn's Coolest Pop Shop. Copyright © 2012 by Nathalie Jordi, David Carrell, and Joel Horowitz. Published by Ten Speed Press, an imprint of the Crown Publishing Group