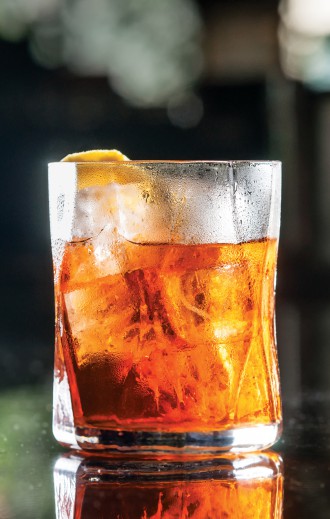 A tea-infused twist on the classic Rob Roy informs this soft and smoky Scotch cocktail.
2 oz. honeybush-infused Scotch
1/2 oz. sweet vermouth
1/4 oz. agave syrup (1:1)
2 dashes orange bitters
Tools: mixing glass, barspoon
Glass: rocks
Garnish: lemon and orange peel
Combine all ingredients in a mixing glass and stir with ice. Strain into an ice-filled glass and garnish.
Honeybush-Infused Scotch: Infuse 4 Tbsp. loose-leaf honeybush tea in 1 750-ml. bottle of Scotch for 2 hours. Strain into a clean bottle, cover and store at room temperature.
Adapted from Alchemy in a Glass by Greg Seider. Published by Rizzoli