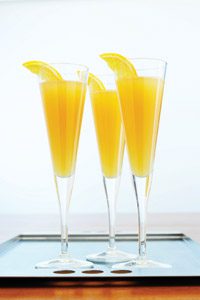 In the January/February 2013 issue, we highlight three delicious twists on the standard Mimosa. Here are five spots around the country serving up stand-out versions of the brunch time classic.
Nopa
San Francisco
This Divisadero hot spot adds a pour of herbal, vanilla-forward Galliano to its Mimosa sendup, the Sparky Wallbanger (Galliano, fresh orange juice, cava, lemon twist). Try it with the custard french toast with granny smith apples and maple butter.
Paradou
New York City
This quirky West Village brunch spot offers a handful of twists on the Mimosa made with different fresh fruit juices and purees, from strawberry to mango, served by the glass or in a ready-to-share carafe. With so many options and a wide-ranging, heavily French-influenced brunch menu, you can't go wrong.
Citizen Public House
Boston
Citizen's cheeky Hangover Management Mimosa is served on the rocks in a pint glass, with a big straw. And if you're still recovering from the night before, we suggest the Citizen eggs benedict with braised pulled pork and pork-fat hollandaise.
Publican
Chicago
Beer is the bubbly of choice at Chicago's Publican. The house Mimosa pairs fresh-squeezed orange juice with a Belgian white ale. It's crisp, bright and a perfect match for the Publican duck tartine.
The Chesapeake Room
Washington D.C.
At Capitol Hill's buzzy Chesapeake Room, apple cider stands in for orange juice in the Orchard Mimosa, which pairs Zeigler's organic cider with a rich, fruity blanc de blancs bubbly. Pair it with the Chesapeake egg sandwich with housemade pork sausage.