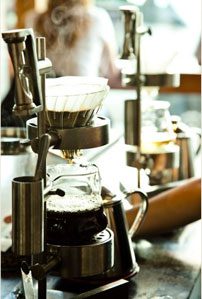 Chockfull of specialty roasters, skilled baristas and enough geeky gadgets to keep even the nerdiest coffee drinkers happy, San Francisco's bean scene is a haven for coffee quality. From where to score a taste of the city's coffee history to where to get the best coffee show, here are our picks for 12 of the city's must-visit spots.
Most knowledgeable baristas: Four Barrel (pictured)
Want to get schooled in coffee origins, roasts and brewing methods? Then head to Four Barrel in the Mission, where coffee-obsessed baristas happily engage café-goers with their breadth of coffee factoids, all while crafting some of the best cappuccinos, espressos and pour-overs in the city. They even offer coffee classes geared toward helping you brew your best at home. 375 Valencia St., San Francisco; 415-252-0800;fourbarrelcoffee.com
Best flair: Blue Bottle
No doubt about it: The folks at Blue Bottle are geeks … and thank goodness. With a handful of locations around the Bay Area, it'd be easy to make each one just like the next, but every Blue Bottle outpost has its own personality—from the showcase of their five-burner siphon station at the Mint Plaza location to the custom pour-over drip bar at the alleyway kiosk on Linden St. But what you will find at each location is skilled baristas with a keen eye on quality. And if you're interested in trying their coffee geekery at home, you can buy their roasted beans along with a number of fancy brewing gadgets from several of their locations. Multiple locations around San Francisco; bluebottlecoffee.net
Best people-watching: Café La Boheme
You never know who you're going to meet at this Mission neighborhood café, which has kept coffee drinkers of all sorts happily caffeinated since opening in 1975. And their drinks and food menus are just as eclectic, offering everything from Turkish coffee, wine and beer to falafel, empanadas and paninis. 3318 4th St., San Francisco; 415-643-0481; cafelabohemesanfrancisco.com
Best coffee + donuts: Dynamo Donut and Coffee
Who can deny the blessed union of coffee and donuts? Certainly not Dynamo Donuts, which serves Four Barrel coffee alongside donut flavors like molasses/Guinness/pear and Campari/grapefruit, and their signature maple/bacon/apple. 2760 24th St., San Francisco; 415-920-1978; dynamodonut.com
Best hole-in-the-wall: Grand Coffee
The former concessions area for the neighboring Grand Theater, for what Grand Coffee lacks in space it makes up for in flavor, with Four Barrel espresso drinks (served with a palate-cleansing side of seltzer, no less), summery refreshers like egg cream soda, and tasty provisions from local purveyors like Bike Basket Pies, Fearless Chocolate and Knead Patisserie. 2663 Mission St., San Francisco; 415-206-1238; grandcoffeesf.com
You drink coffee, they drink tea (or wine, or beer): Ma'velous
It's the café conundrum we've all experienced: You want a killer cup of coffee while you're friend is in the mood for something else. Thanks to Ma'velous, everyone's happy. A stellar roster of beans—including Stumptown, Ecco Caffé and Intelligentsia in the permanent lineup, and Scandinavian microroasters Coffee Collective and Tim Wendelboe as special guests—are brewed via pour-over, siphon, cold brew (among other brewing methods), while other equally delicious imbibe-ables include a great selection of craft wines, local beers and premium teas. 1408 Market St., San Francisco; 415-626-8884; maveloussf.com
Best coffee and bites for those on the go: Piccino Coffee Bar
Located three doors down from their intimate, Italian-style café, the Piccino Coffee Bar serves Blue Bottle espresso drinks alongside homemade breakfast bites and lunchtime sandwiches all ready for grabbing on the go. 807 22nd St., San Francisco; 415-824-4224; piccinocafe.com
Best place to pick up a good book: Readers Café
Put down the iPad for a minute and get bookish at Readers Café, the coffee shop/bookstore in the Fort Mason Center at the marina. By ordering your latte (made with Blue Bottle beans) at Readers, not only are you satisfying your coffee fix, you're also supporting San Francisco's public libraries, which receive proceeds from the café. Building C, Fort Mason Center, San Francisco; 415-771-1011; readerscafe.org
Best blends: Philz Coffee
If you're looking for an easygoing, no-frills neighborhood café with a reliably good cup of coffee, Philz is the place. Blends are the house specialty with a wide array to choose from combining specialty beans from around the world. 3101 24th St. at Folsom St. (with 6 other locations around the Bay Area), 415-875-9370; philzcoffee.com

Best latte: Ritual Coffee Roasters
Like the name implies, you'll want to make your visits to Ritual a regular thing. The flagship Mission neighborhood shop is known for crafting one perfect drink after another. Topped with seamless rosettas and hearts, Ritual's velvety lattes combine seasonally rotating espressos with milk from local Clover Farms—one will never be enough. 1026 Valencia St., San Francisco (additional locations in Flora Grubb Gardens  and Napa); 415-641-1011; ritualroasters.com
Best kiosk: Sightglass Coffee
With no space to linger but plenty of delicious coffee to spare, Sightglass serves up decadent lattes and single-origin Chemex brews of their freshly roasted, micro-lot beans all from a teeny cart that's nestled next to a larger space they're busy building into a full-sized café and roastery. 270 7th St., San Francisco; 415-861-1313; sightglasscoffee.com
Most creative way to start you day: Trouble Coffee Company
Want a coconut to go with your coffee? This quirky little café scores big on creativity for their "Whole Damn House" menu, which includes a cup of coffee (brewed from Ecco Caffé beans), a thick piece of white toast slathered with butter and cinnamon sugar, and a whole young coconut. It's the ultimate power breakfast! 4033 Judah St., San Francisco; troublecoffee.com
RELATED CONTENT
For more on the cocktail scene in some of San Francisco's finest restaurants, check out "Dinner & Drinks" in our May/June 2011 issue.