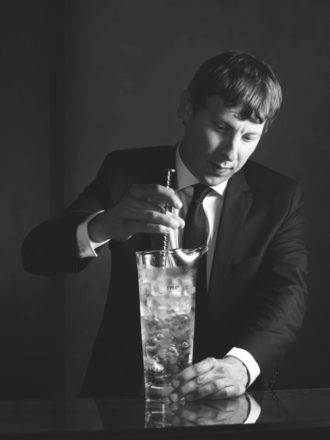 Ludovic Miazga, better known as Ludo, was born and raised in the South of France, so it seems natural that he now represents Bacardi's French brands. Just as he was about to complete his studies to become an electrical engineer in 2000, Miazga began to question his career path. He put his studies on hold to spend time traveling and sharpening his English. In London he came across famous flair bartender Nicolas Saint-Jean whose expert precision and fresh ingredients inspired Miazga to pursue bartending. Miazga joined the opening team of Milk + Honey in London with Sasha Petraske and Jonathan Downey, and through connections he made there, he got the opportunity to work in training and developing new brands. In 2008, Bacardi contacted him when they were planning to re-launch Noilly Prat vermouth, and he's served as global ambassador for the company's French brands ever since. Miazga recently caught up with Joshua Harris of The Bon Vivants (and Pig & Punch) to talk about his job and his favorite ways to unwind.
Joshua Harris: Tell us a bit about what your job involves.
Ludovic Miazga: It entails looking after and spreading the love for the French brands such as Noilly Prat vermouth, Benedictine liqueur, D'Usse cognac, Otard cognac and Grey Goose vodka. In a nutshell, my job is to work with different departments of our company, mainly marketing but also production, to develop new tools and, most importantly, to connect with our audiences.
JH: What do you love most about your job?
LM: The chance to travel and experience cultural diversity. What I like the most is anything to do with innovation projects, like the creation of new liquids, for example. I think it's very important to understand what consumers expect. It's not about fooling them or trying to create something they don't need—it's trying to bring about something that exceeds expectations.
JH: What's your must-visit travel destination?
LM: I think the perfect destination is not always about the place but the people welcoming you to that place. If I have to pick, I would say Cuba. The company I work for and the entire rum category itself is intimately tied in with the history of this island. I also think it's a place with something magical that you don't find in many places. The people, the music, the lights, the colors—many countries are great, but this country has left a strong mark on me.
JH: Through all these travels, I'd imagine you've had some pretty incredible meals. What's been your favorite fine-dining experience?
LM: I think the most spectacular was Jules Verne, the restaurant in the Eiffel Tower. It's not every day that you can experience fine dining in a very unique location viewing Paris by night. It was sensational.
JH: On the other end of the spectrum, what's been your favorite off-the-beaten-path food experience?
LM: One of the most exceptional restaurant experiences in my life was in Normandy, in Fecamp where Benedictine is made. There's a restaurant there called Vicomte. It has been owned by the same people for 25 years—a wife and husband run this place. When I went to see them the first time it was so magical, and not just the quality of the food. It's something I feel that I'm seeing more and more—small places that fill quickly and have a nice, warm, human feel to them.
JH: In our business the line between work and play tends to get blurry. When you have the opportunity to detach from work, what do you do for fun?
LM: I think it's very important to preserve balance and conserve energy for your work. Outside of work I'm a yoga teacher, a gym teacher and a massage practitioner. I'm very interested in health. All these years have made me realize that I enjoy what I do, but I must preserve this line between enjoyment and excessive consumption. I think if we want the world to drink better, it's our responsibility to educate about the good behavior that should accompany drinking. So I dedicate a lot of time and money to these parallel activities.
JH: Speaking of promoting alcohol, one of the things we have to do when we're promoting brands is to go into different bars, check out their menus and order drinks made with the brands we're looking after. If you're at home, what drink do you make for yourself?
LM: Ice, Noilly Prat Dry, a splash of Perrier (or champagne) and lemon peel.
JH: And now I've got some rapid-fire questions for you.
JH: Dogs or cats?
LM: Dogs.
JH: Early bird or night owl?
LM: Now trying to be an early bird. I'm a retired night owl!
JH: Coffee or tea?
LM: Coffee.
JH: Bow tie or necktie?
LM: Necktie.
JH: Forks, chopsticks, or fingers?
LM: Spoons!
JH: Movies or books?
LM: Books.
JH: Sparkling or still?
LM: Still.