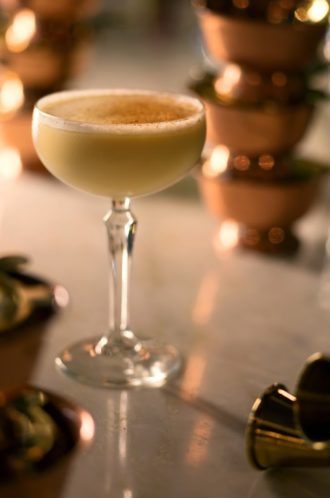 This twist on classic egg nog gets a kick from a bit of smoky chipotle syrup as well as a good pour of créme de cacao.
1½ oz. dark rum
½ oz. créme de cacao
¾ oz. chipotle syrup
½ oz. heavy cream
1 fresh whole egg (pasteurized if you like)
Tools: shaker, strainer, fine strainer
Glass: sour or coupe
Garnish: chili powder
Combine all the ingredients in a shaker and dry shake (no ice). Add ice, shake again and strain into a glass. Garnish.
Chipotle Syrup: Combine 1 cup of water and 4 dried chipotle peppers in a saucepan. Bring to a boil and then simmer for about 15 minutes. Remove from the heat and strain out the peppers. Add 1 cup of granulated sugar and stir until dissolved. Store in the refrigerator until use, up to 2 weeks.
Juyoung Kang, Las Vegas, NV