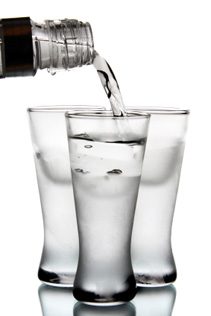 In the March/April 2010 issue, Imbibe contributing editor Paul Clarke delves into often-maligned world of vodka, shedding light on craft bartenders and distillers who are daring to give the spirit new life behind the bar. We recently did a blind tasting of some of the many vodkas lining liquor store shelves these days, and while there are 12 brands you can read about in the magazine, here are a dozen additional bottles worth checking out.
This mellow and approachable Polish vodka has sweet, maple aromas, a creamy mouthfeel and flavor notes of vanilla and caramel.
Distilled from Idaho russets, this smooth, earthy vodka from 21st Century Spirits offers notes of cinnamon and a touch of spice on the finish.
Dulce de leche aromas attract from the get-go in this vodka from Maine. Notes of sweetened condensed milk and caramel make it a good candidate for fruit or spice infusions.
This quadruple-distilled vodka is clean and balanced with fruity aromas and a hint of green pepper and spice on the finish.
A dynamic vodka with big floral aromas and tequila-like flavors of citrus and salt, this copper-pot distilled vodka is made with certified-organic wheat from Wisconsin.
Chicago's own micro-distillery crafts this lightly sweet vodka with notes of fresh flowers and citrus. Smooth and balanced.
From a geothermic-steam-powered distillery in Iceland comes this lava rock-filtered vodka with notes of lemon and jalapeño. Perfect for spicing up your next Bloody Mary.
This unfiltered vodka from Leopold Bros. is super-smooth on the front end with a slight bitterness on the finish. Light, clean and a tasty addition to vodka cocktails.
The pioneering vodka in the U.S. is often overlooked in favor of pricier vodkas, but in a blind tasting, Smirnoff demonstrates why it's still a major player. With a yeasty, bready aroma, a light body and a spicy tang, it has a crisp spark but is lean and dry.
A rye-based vodka from Poland, Sobieski has a lean, grassy aroma and a light, crisp body, with a gentle, bready flavor and a dry snap of grain.
This Dutch vodka is soft and textured with notes of almond and spice.
Copper pot distilled in small batches, this oat vodka from Park City, Utah's High West Distillery is rich and creamy with notes of tart apple and earthy minerals.